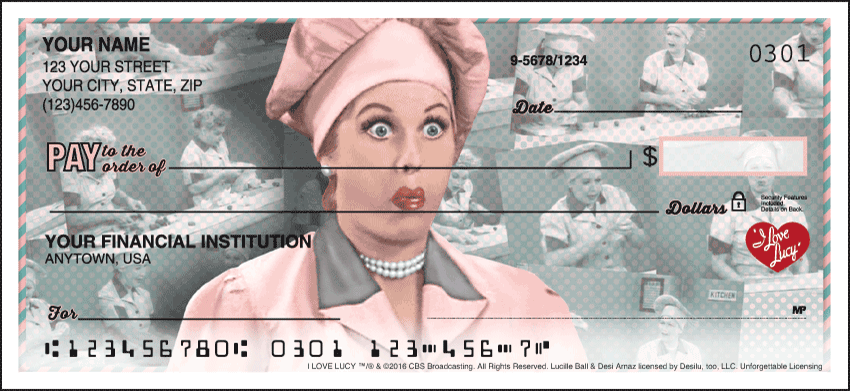 Vintage Lucy Classic Personal Checks
In this cyber world of electronics which is making us into a paperless society …. You have noticed that we are in a paperless society ….. Haven't you?? Paperless or not … Checks are still a necessity. Since there is a need for checks, you might as well have a pretty personalized check.

Vintage Lucy Checkbook Cover

FEATURES
Security Features: Our checks feature Chemical Protection, Erasure Protection and Microprint Signature Line
Duplicate Checks: Save time and keep better records with carbonless copies of every check you write
Images enhanced to show detail on the check
These vintage I Love Lucy™ check designs feature eight rotations of America's most beloved television personalities.
Check out the new, vintage I Love Lucy™ designs available to add laughter and fun to your check-writing routine. Celebrate I Love Lucy's 65th anniversary with coordinating address labels and a checkbook cover!
Type the text that you would like to appear


Vintage Lucy Address Labels Set of 200
Love Lucy Designer Checks
.
.